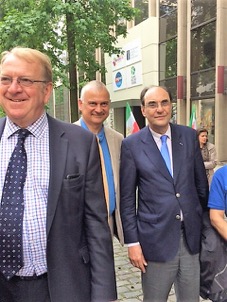 On 15 June 2019, in Brussels, ARCHumankind Executive Director, Paulo Casaca, joined Iranian supporters of the People's Mojahedin Organization of Iran (PMOI or MEK) in rallying for a Free Iran. The demonstration was a solidarity march of the National Council of Resistance of Iran (NCRI)'s call for a free, democratic, non-nuclear Iran, where there will be no capital punishment and the essential freedoms and gender equality are guaranteed.
Saturday's protest marked the beginning of a series of rallies that will take place in several cities, including Washington DC, Berlin, Stockholm, and London. Paulo Casaca has been a long-time advocate for the end of the atrocious human rights violations in Iran.
In his speech, Paulo Casaca congratulated the Iranian resistance for its perseverance and commitment, namely those who have been defying the regime in Iran and those exiled in Albania as well as the larger expatriate community.
He gave particular emphasis to the disinformation campaign of the regime's fabrication of accusations against the opposition and lying about its terror covert attacks in Europe and the Middle East.
At the rally, other personalities also spoke, including Mohammad Mohaddessin, Chair of the NCRI Foreign Affairs Committee, Pierre Galand, former President of the European Branch of the World Organisation Against Torture (OMCT),
Kak Baba Sheikh Hosseini, Secretary-General of Iranian Kurdistan's Khebat Organization, NCRI Member Zinat Mirhashemi, Syrian human rights activist and former judge Haitham Maleh, Sarvnaz Chitsaz, the NCRI Women's Committee Chair,  Prof Eric David, Emeritus Professor of international law at the Université libre de Bruxelles, Ingrid Betancourt, former Colombian Senator and Presidential candidate, Former Italian Foreign Minister Giulio Terzi, Françoise Schepmans, a Member of Parliament from Belgium, Iranian opposition President-elect Mrs Maryam Rajavi, Alejo Vidal-Quadras, former Vice-President of the European Parliament, Mark Demesmaeker, a Member of the European Parliament from Belgium, Struan Stevenson, and a former member of the European Parliament.
In addition to the speeches, the people gathered at the rally enjoyed the performance of the Iranian singer, Gisoo Shakeri.
You can view the demonstration here: